About the Links Incorporated,
San Jose Chapter (CA)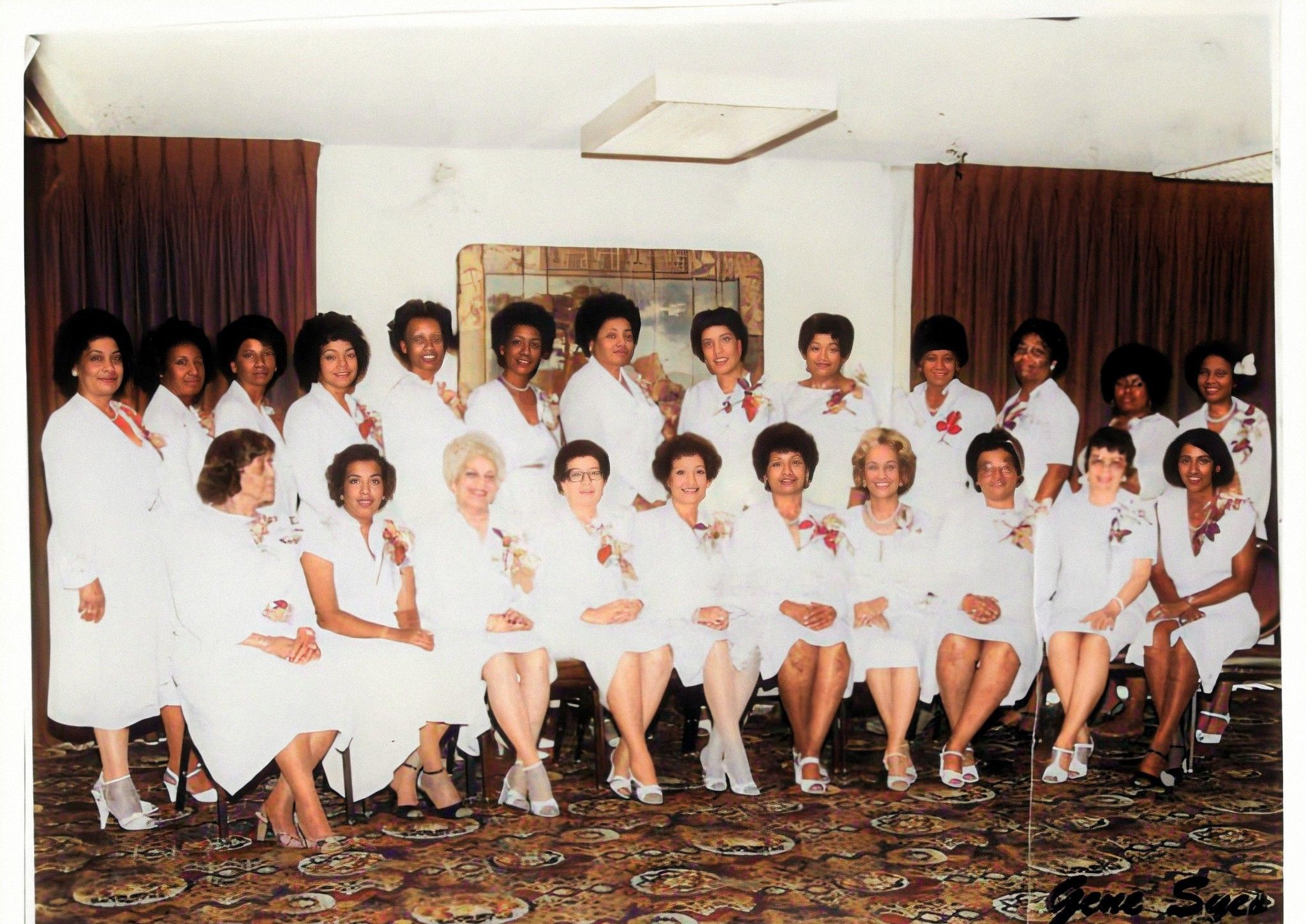 Row 1 (L to R) Sara Butler, Sheilah Lane, Anita Posey, Evelyn Carter, Precida Harris, Mary Washington, Marion Sutherland, Shirley Cook, Delores Bolling, Sandra Mack
Row 2 (L to R) Vatchye Harderman, Lazelle Westbrook, Harriett Arnold, Sara Wallace Katranker Thompson, Patricia Jones, Constance Duhe, Faith Fauntleroy, Susan Mance, Faye Bremond, Rose Rushing, Wanda Hudson, Mamie Richmond
About The Links, Incorporated
The San Jose Chapter of the Links, Incorporated is an organization empowered by its rich legacy. We provide world class service through our circle of friendship, which is a model of excellence and innovations. Our local chapter is recognized throughout the community as a collective voice of talented and professional women committed to improving the quality of life for our community's Families, Women, Youth and Children.
Friends Transforming the Santa Clara County Community through dedicated service for the underserved and underrepresented
message from chapter president
Greetings from the San Jose (CA) Chapter of The Links Incorporated. This local chapter was chartered on June 6, 1981 and since that time we continue to grow and expand our service to our community! Our chapter has a rich legacy of award winning programming and best practices, as highlighted through our work with Youth, the Arts, National and International Trends and our Health and Human Services.
We are a group of women who are engaged and intentional in our commitment to making a difference in our community. For over ten years, we have had a strong presence at Del Roble Elementary where we have mentored students as they continue on a pathway to enhance their STEAM education. We have also partnered with Unity Care and the African American Community Service Agency. In addition, our chapter proudly hosts an annual youth recital at the Trianon Theater. As part of this recital, we provide music stipends to student performers, as well as sponsor $10,000 in scholarships annually for foster youth and students in need.
Our chapter is made up of a diverse, talented group of women who are not only committed to our investment in our sisterhood, but also to providing transformational experiences for everyone we come in contact with. San Jose Chapter members are part of a chain of friendship and service that is making an impact all over the world. Our services are delivered from the heart, in friendship and are served with excellence and grace.
We encourage you to explore our website to learn more about our commitment to delivering impactful, sustainable and transformational community programs.
San Jose Chapter Chartering Date 1981 – Change title to "San Jose Chapter – Chartered June 6, 1981 at the Marriott Hotel in Santa Clara, California"
The original members of the San Jose Chapter were Harriett Arnold, Dolores Bolling, Faye Bremond, Evelyn Carter, Shirley Cook, Constance Duhe, Faith Fauntleroy, Vatchye Hardeman, Precida Harris, Wanda Hudson, Patricia Jones, Sheilah Lane, Sandra Mack, Susan Mance, Anita Posey, Mamie Richmond, Rose Marie Rushin, Katranker Thompson, Sara Wallace, Mary Washington and LaZelle Westbrook. We are honored to be a part of their legacy!
2017 National Trends and Services- 1st Place Your Vote Matters.
2017, 2014, 2013 WA Programs Best Practices STY: Empowerment and Literacy Project Lead.
2017 Finance Circle of Excellence Award.2015 – City of San Jose Capital of Silicon Valley "Outstanding Community Volunteer Award" for District.
2013 The Legacy Galaxy Award for the Spring Recital- The Classics Through the Ages.
2013 – The "Dream Keeper" Program, James Beckwourth "Trailblazer Award" Oak Grove School District.
2006 The National Trends Award Million Pounds Project.
2006 Western Area Recognition Keep Arts Alive.
2006 Western Area Recognition Little Chapter that Could.
1996 The International Trends National Award Bahamas Project